Alva Community council are delighted to announce Alva's Pompom Fest at the end of May. The Community Council are organising a week of events culminating in a Fun Day in Cochrane Park, 12 – 4pm on Saturday 24th May followed by a Family Ceilidh 7.30-10.30pm in the Cochrane Hall. Local band Freereelin will provide the music and there will be a hot Scottish Fayre buffet. Ceilidh tickets are £8 for an adult, £4 for a child and a family ticket £20, which includes 2 adults and up to 3 children. Tickets will soon be available from Higglety Pigglety.
There will be free entry to the Fun Day where you can try your hand in the competition tent. There are 4 categories to take part in, adult cake competition, youth cupcakes, children's cupcakes and children's vegetable characters. Prizes are £20 plus winners cup for first, £10 for second and £5 for third. Also at the Fun Day there will be a climbing wall, assault course, bouncy castle, mascots, fire engine, face painting, balloon modelling, refreshment tent and various side stalls.
To apply for a competition or to have a side stall at the Fun Day you can download application forms below, pick up a copy at the library or Higglety Pigglety to where completed applications should be returned.
We want the community to be involved beforehand by making lots of Pompoms to decorate and brighten up the town. From the youngest at the nursery to the slightly more mature Alva groups – everyone can make a pompom or two that we can use to make our Pompom Fest! Make them from wool, old cloth, poly bags, anything. Have some fun.
We are meeting at the Cochrane Hall on Sunday 18th May at 2pm to hang pompoms in the town. Please drop your pompoms in to Higglety Pigglety, and come along on May 18th to help us hang them.
During the week there will be things that everyone can participate in to try something new, including t-shirt painting, flower arranging, etc.
There will be a diary of the weeks events on the Community Council website and posters in shop windows. Watch out for them.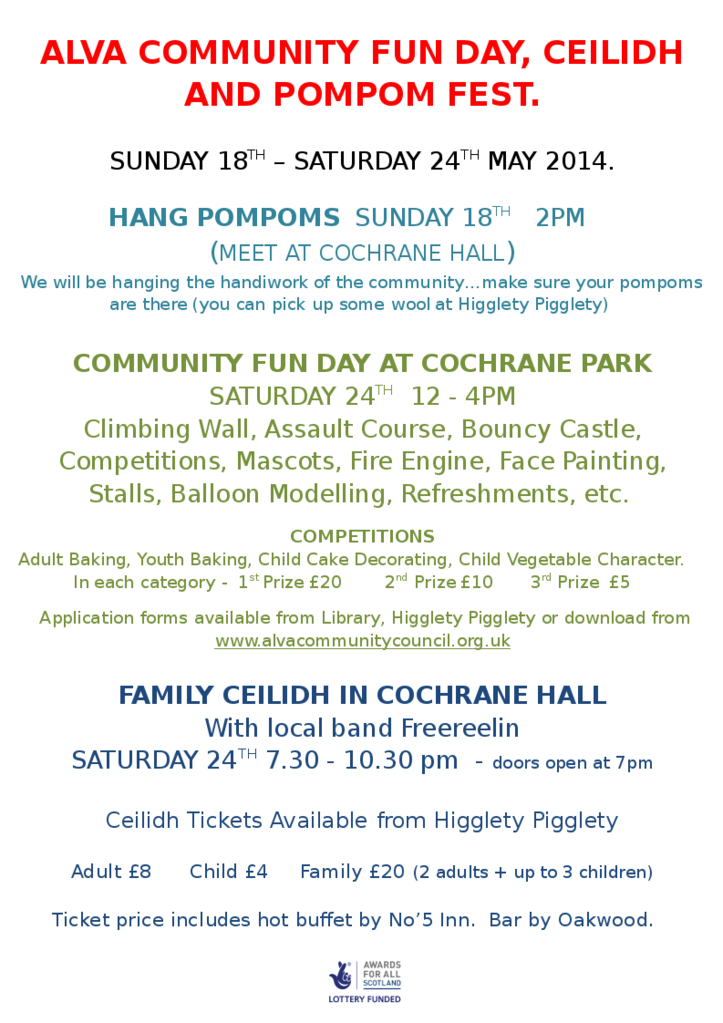 Booking Forms
If you wish to have a stall at the fun day then please download this form, print, fill out and place it in the "Community Fun Day" box at Higglety Pigglety.
If you wish to enter any of the competitions then please download this form, print, fill out and place it in the "Community Fun Day" box at Higglety Pigglety.